The following primary filters are effective in narrowing down your search for the right pair of glasses.
1. Gender
Choose Men or Women to narrow down your search.
Men: this selection includes both Men and Unisex frames.
Women: this selection includes both Women and Unisex frames
2. Size
Choose XX-Small, X-Small, Small, Medium, Large, or X-Large to narrow down your search.
Narrow: below 127mm
Medium: 127 – 140mm
Wide: above 140mm
To determine your size, take a ruler and measure the arm-to-arm distance of your current glasses in millimetre.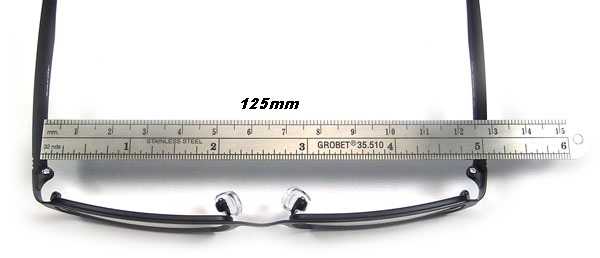 Note: If your current glasses do not fit well, use them as a gauge towards a better fitting pair. For example, if your glasses currently measure 125 mm and they feel a bit small (temple arms are pressing against the sides of your face), go up a size.
Understanding size measurements for frames
Sizes are often printed on the inside (left or right) temple arms of your glasses. For example, 50-17-135. The set of numbers represents lens width, bridge width and temple arm length, in millimetres. If size measurements are not printed on the inside temple arm, you can simply measure with a ruler.

3. Type
Single Vision: all eyeglasses are eligible for Single Vision
Progressive: choose this type to filter out glasses not eligible for Progressive
Other filters (price, material, shape, colour, style, and brand) are available to further refine your search.