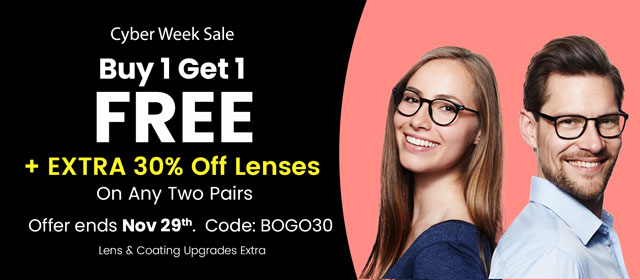 Eyeglasses for women
Finding the perfect pair of eyeglasses for women to change up a look has never been easier. Whether you're searching for the latest designer cat eyeglasses or sophisticated black frame glasses, iLookglasses' exclusive online collection of prescription glasses will fit every fashion niche. iLookglasses.ca's online optical store has all the latest eyeglasses for women. The collection has been carefully curated, offering a broad range of popular women's eyewear that will match your individual style, size, eye and face shape. You can shop clear women's glasses that protect you from blue light and find a frame material to accommodate any eyewear prescription.


As you search through the latest spectacle frames and glasses online, you can filter our extensive collection of clear and prescription eyeglasses by colour, brand/designer, popular look and features. Using our Virtual Mirror tool, you can try on each pair of your chosen glasses and frames, and see how the colour, frame material and lens style fit your face and eye shape.

For those who would like to shop from the comfort of their homes, we cater to those who are searching for eyeglasses in Vancouver. Delivery is available all across Canada including major cities like Vancouver, Toronto, Montreal, Calgary, Ottawa, and Edmonton.

You can browse, try, and buy eyeglasses for women online, all without leaving the safety of your home; and have the perfect pair of trendy glasses delivered straight to your door by Canada Post in approximately 3-6 business days (slightly longer for certain rural areas and special-ordered items).

What to consider when buying eyeglasses for women?

There are a few things to consider when buying eyeglasses for women (as well as eyeglasses for men). Some elements—like frame colour, designer/brand, shape and material—will be determined by your personal style and fashion preferences. Others, such as eyeglasses and lens size, are dependent on your prescription, pupillary distance and face shape.

Once you've gained a clear understanding of your eyeglasses prescription with our simple online prescription guide, you can start the fun part: narrowing down your favourites from our exclusive collection of cool eyeglasses for women.

Each face and every eye is wonderfully unique, and these individual looks are what help form our personal style. When purchasing the latest spectacle frames, there are several lens and frame attributes that can help you balance—or even conceal—certain facial features.

Consider your face shape. While our looks are unique, our face generally falls into one of five face shapes: round, oval, square, triangle, or heart. Understanding your face shape – and what you do or don't like about it – is a great way to begin refining your options when searching specs frames for women. It will help you make informed decisions about things like frame width, lens style, and whether a certain frame material, such as titanium metal, may serve your face and eye shape better than a thick pair of eyeglasses.

Here's a handy guide to follow when picking eyeglasses for women:

• Someone with a round face shape (balanced, with a forehead, cheekbones, and jaw) might consider a distinct frame shape and lens design. Rectangular frames, when paired with a solid colour or wide frame, will provide a contrast to the curves of a round face.
• Someone with an oval face shape has the most versatility since the narrow forehead and chin mean that the cheekbones are the focal point of the face. Women with an oval face can wear trendy glasses, especially designer cat eye glasses. They can also pick glasses with oversized or square frames since the width of the frame balances their cheekbones.
• Someone with a square face shape (broad forehead, prominent jawline and cheekbones) should consider choosing lightweight materials such as titanium metal – or even a rimless lens – to soften the angles of their face.
• Someone with a heart face shape has a great deal of flexibility when it comes to choosing eyeglasses for women, especially when it comes to frame shape and material. Since the widest part of their face is the eyebrow, someone with a heart-shaped face might want to balance the lower portion of their face by picking a bold frame colour or opaque material like black frame glasses.
• Someone with a triangle face shape has a narrow forehead and a wide jaw. Those with triangle face shapes can pull off some of the boldest glasses for women. To draw attention upward to the eye and bridge of the nose, someone with a triangle face can wear thick, heavy frames in bold colours or materials; such as black frame glasses and designer cat eye glasses.

Where can I buy eyeglasses for women?

You can visit iLookglasses.ca for your eyewear needs. It's extremely important to us that you feel confident when you buy eyeglasses for women online. That's why our prescription glasses and frames come with a 100% accuracy and satisfaction guarantee. Once you've chosen the perfect pair of trendy glasses, simply add them to your shopping cart. Follow the prompts to enter your prescription and any additional optical information, and complete the checkout process.

iLookglasses.ca is proudly 100% Canadian-owned and operated. We've spent 20+ years in the eyewear business building our strong networks of suppliers and optical labs to ensure that you get value for your money through our high-quality products.

If you are unhappy – for any reason – with your online spectacles purchase, you can return them within 365 days.
Changes in Virtual Try-On will be lost
Use My Own
Use My Own
Use uploaded photos on file
Tips
#1. KEEP YOUR FACE STRAIGHT AND LEVEL
#2. REMOVE YOUR GLASSES
Step 1 of 3
Step 2 of 3
Step 3 of 3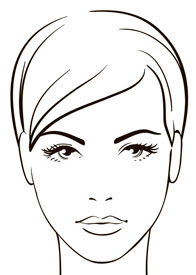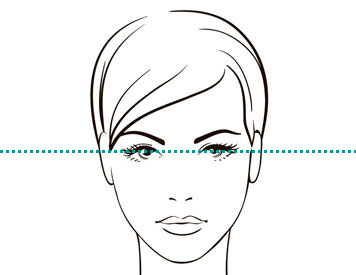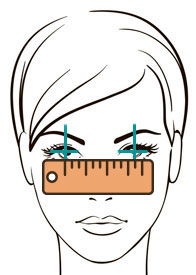 Zoom in (+) or out (-) to suggested size [ as image ]
Rotate picture to align horizontally
Position "+" on your left and right pupils followed with your PD (Pupillary Distance)